KEETEC BLADE car alarm with connection to CAN BUS
Keetec BLADE car alarm is suitable for vehicles with 12/24V circuits. The BLADE uses the genuine key to control the system either in modern vehicles with can-bus or in older vehicles via an analogue connection. The revised application for setting up the whole system will provide a simple and intuitive setting of the system before the assembly itself, with no need to use any additional devices.Software updates, diagrams and connection points nice and simply put in PDF files ready to be downloaded are of course an inseparable part of the newly revised application.
---
The new VALIDATOR function will provide additional system authorization for vehicles with "keyless" access. By entering a unique PIN-code through the original buttons in the vehicle's interior (e.g. buttons on the steering wheel, electric window control, etc.), it is possible to confirm additionally, the unlocking of the vehicle or enable the start itself.
System description:
possibility of use in vehicles with 12/24V on-board voltage
direct connection with PC via micro USB cable
wizard for basic system settings (setting wizard)
VALIDATOR authorization function to increase the level of security
intuitive programming using KEETEC software
programmable inputs and outputs
preconfigured settings according to the selected vehicle
access to the connection points directly in the KEETEC software
possibility of connection via CAN BUS or analog inputs
silent/loud system activation
alarm memory
plug and play additional sensors
opening the trunk while armed
immobilization relay 12 VDC/20 A
emergency deactivation by PIN code
consumption of only 2mA
Car alarm BLADE contains the most up-to-date database of supported vehicles. The database is regularly (monthly) updated. Program versions can be changed by connecting a micro USB cable (not included in the package).
KEETEC software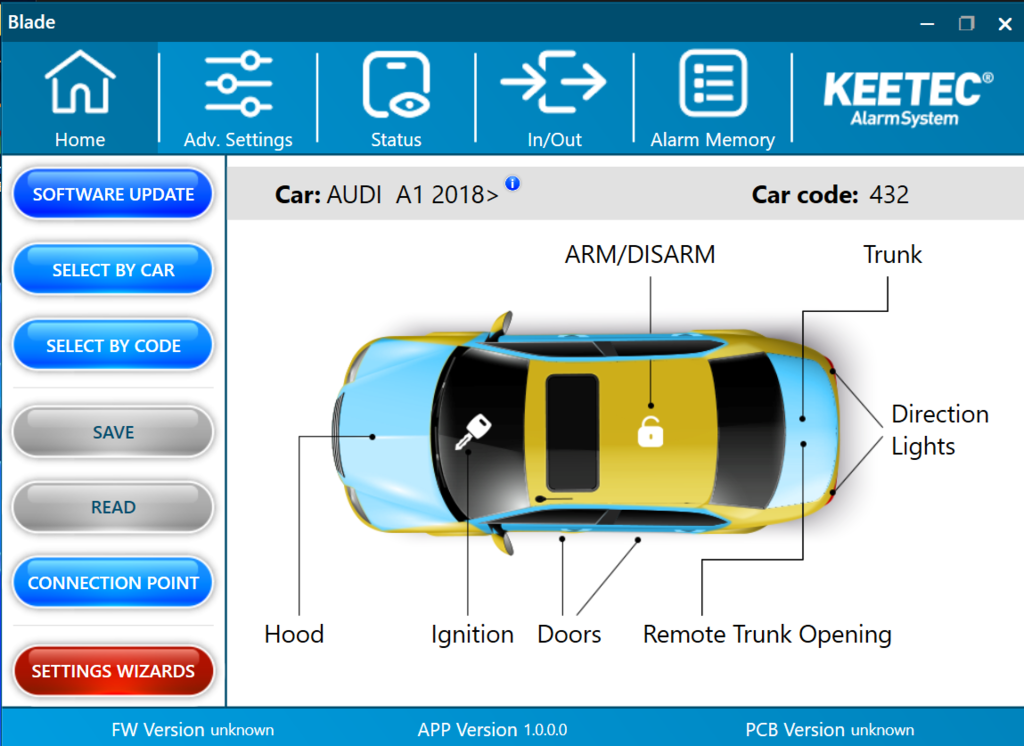 Package contents:
controller
siren 20W
immobilization relay
cable harness
LED service button
manual
Attention: When using the system for vehicles with a 24V power supply, it is necessary to use a siren for 24V circuits or connect the vehicle's original horn.
Parameters
| | |
| --- | --- |
| Type | Car alarms |
| Remote control | Factory remote control |
| Connection | CAN-BUS, Analog |
| Manufacturer | Keetec |
| Weight | 0.423 kg |
Need help?
Our technical support staff is ready to help and assist our customers. On the phone, by email or instant messaging on working days 8am-4.30pm