LED daytime running lights - for vehicles with power supply 12V, high-performance LEDs with low current consumption, automatic ON/OFF, waterproof exterior design, approval by decree ECE R 87, rounded design.

Dimensions: 139,7 x 23 x 51 mm
LED diode type: 18x LED Piranha
Current consumption in 12V: 0,31A


The advantages of daytime running lights:
Improving the visibility of the vehicle. Especially when driving against the sun
Reduce electricity consumption in the vehicle resulting in a reduction of fuel consumption
Longer life of lamps and xenon lamps in the vehicle, given using of daytime running lights during day
Automatic ON/OFF of daytime running lights after turn ignition ON/OFF without use of additional automatic switches
Long life LEDs
12V
Need help?
Our technical support staff is ready to help and assist our customers. On the phone, by email or instant messaging on working days 8am-4.30pm
Similar products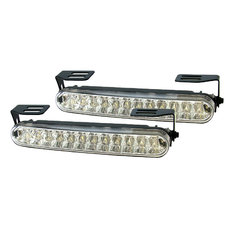 LED daytime running lights, R87 approval - 24x PIRANHA LED with low power consumption and automatic on/off switch, dimensions 160x24x40 mm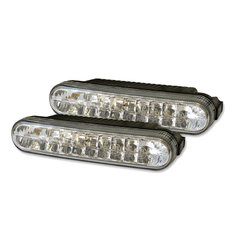 LED daytime running lights, R87 approval - 18x PIRANHA LED with low power consumption and automatic on/off switch, dimensions 120x24x58 mm