Top approved LED Daytime Running Lights. The rounded shape of the lamp is suited for vehicles with a rounded front bumper. Set has a module which ensures automatic illumination when ignition is ON, and will switch OFF, when low beam lights comes ON. The module also works as a power inverter for lights. Without this module lights can not be installed.

Dimensions: 160 x 25 x 55 mm.
Approval E11 - 00 0012
- 12V

The advantages of daytime running lights:
Improving the visibility of the vehicle. Especially when driving against the sun
Reduce electricity consumption in the vehicle resulting in a reduction of fuel consumption
Longer life of lamps and xenon lamps in the vehicle, given using of daytime running lights during day
Automatic ON/OFF of daytime running lights after turn ignition ON/OFF without use of additional automatic switches
Long life LEDs
Parameters
| | |
| --- | --- |
| Manufacturer | Mycarr |
| Weight | 0.673 kg |
Need help?
Our technical support staff is ready to help and assist our customers. On the phone, by email or instant messaging on working days 8am-4.30pm
Similar products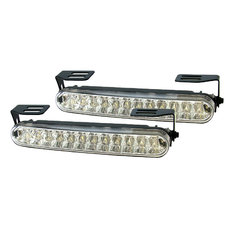 LED daytime running lights, R87 approval - 24x PIRANHA LED with low power consumption and automatic on/off switch, dimensions 160x24x40 mm