HID Xenon lamp D1S General Electric Xensation designed for original xenon car headlights, colour temperature 4200K, 35W. Made in Germany, 1pc.

Technical parameters
Base: PK32d-2
Type: D1S
Nominal power: 35W
Nominal lamp voltage: 12V
Colour temperature: 4200K
Nominal lumens: 3200lm (+/-450lm)
Rated life: 3000 h

The comparative light charts:

![GE_vybojky](http://www.tssgroup.sk/media/image/ge-vybojky.jpg)

Note:
We recommend to change both xenon bulbs, because of difference in colour light of old and new discharge lamp. The HID xenon bulbs have also similar lifetime, so old xenon bulb can go off in short time.

Benefits of GE Discharge lamps:
Better visibility and illumination – the light is advantageously beneficial for the sensation of human eye. Enables the driver's confident perception in darkness to perceive earlier road and street markings.
Greater illuminated area on the road
Optically advantageous whiter light compared to halogen lamps designed to give a colour that is closer to natural daylight.
Lower power consumption – 35W only instead of 55W (ordinary halogen lamp power consumption)
Better durability – excellent vibration and shock resistance giving significantly greater reliability
Parameters
| | |
| --- | --- |
| Manufacturer | GE |
| Weight | 0.077 kg |
Need help?
Our technical support staff is ready to help and assist our customers. On the phone, by email or instant messaging on working days 8am-4.30pm
Similar products
HID xenon bulb KEETEC, D1S base, designed for original xenon headlamps with 4300K color - white light.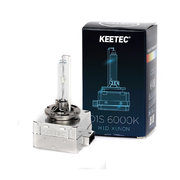 KEETEC HID xenon bulb, D1S base, designed for original xenon headlamps with 6000K color - light blue light.